While anyone can claim they are an expert in security systems, they typically don't have the decades of experience that Security Alarms Co. has. Our team has served Northeast Oklahoma since 1973. Although the technology has continued to change over time, we still focus on providing our customers with the best products and solutions in the security industry. When you need expert help creating or installing your security system, we are ready to provide the products and expertise needed to streamline the process.
What Products Does Security Alarms Co. Use?
Consumers have countless product types and brands to choose from when creating their own security system. The team at Security Alarms Co. has worked with many of the major options available for commercial and residential applications; however, we still rely on the products developed and maintained by a privately-owned company from Springfield, Missouri – Digital Monitoring Products (DMP).
All DMP products are designed, engineered, and manufactured in the United States with American and global components. As a locally owned company, we want to provide our residential and commercial customers with security solutions they are comfortable with. That means sourcing Made-in-America products whenever possible and ensuring that any needed technical support isn't outsourced to a global company to cut costs.
Finding video surveillance equipment that provides the quality and reliability you need can be challenging. Other factors – like IP67 weather rating – may also be important depending on where the cameras will be installed. Whether you want to create a comprehensive network of video cameras around your business to deter theft or simply want to increase peace of mind for your home, we can help determine the best cameras to meet your goals and ensure they are correctly installed.
Consumers now have countless video doorbell options to choose from; however, many of the most popular brands may not provide the ease of use or level of support you had hoped. When you partner with Security Alarms Co. for your video doorbell, you can rest easy knowing that local support and monitoring are always available. Why trust your family's safety to a large corporation when you don't have to?
Intrusion Detection Alarms
Did you know that around 60% of burglars are deterred from casing a potential target simply because they know an alarm system is present? Studies have been conducted to verify the importance of these systems for both commercial and residential locations, and you can be confident in your protection simply by installing an intrusion detection or alarm system. If you are struggling to get started, Security Alarms Co. can help.
Touchscreen Keypad
Features an easy-to-use interactive shield allowing quick arming and disarming without touching the screens to enter codes.
Outdoor Fixed Dome Camera
2 megapixel indoor/outdoor fixed dome camera with 2.8 mm focal length and IR LEDs for no/low light imaging at up to 98 feet.
Outdoor Bullet Camera
2.1 megapixel indoor/outdoor bullet camera with 4 mm focal length and IR LEDs for no/low light imaging at up to 60 feet.
Indoor Cube PIR Camera
2 megapixel indoor cube camera with 2.8 mm focal length, Wi-Fi and PIR detection and IR LEDs for no/low light imaging at up to 32 feet.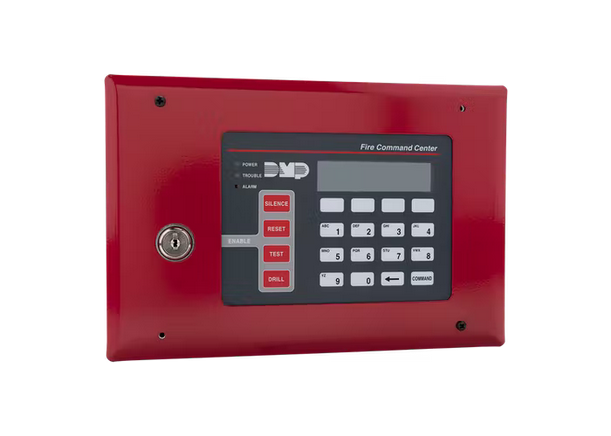 Remote Annunciator
20-key remote fire annunciator with a 32-character full text LCD readout that displays system events and menu prompts.
Alarm Communicator
Fully supervised universal alarm communication over Verizon's LTE networks for any burglary, commercial fire or residential fire panel.
Access Control Module
The DMP 734 Module Series offers multiple options for codeless entry plus system arming and disarming using DMP access cards or credentials; or it can be customizable for other credentials.
Cellular Extension Module
The 263EXT comes as a pair: One module installs directly on the control panel inside the metal enclosure. The other installs with the cell modem up to 300 feet away. Between the two modules, you can have up to 300 feet of continuous reach with a CAT5 cable or 22 AWG shielded wire.
Network Transient Suppressor
The Model 270 Transient Suppression Module provides surge suppression from the ethernet for the protection of DMP Panels. In UL applications, the Model 270 must be used if the switch is not installed in the same room as the panel.
Ready to improve your security?
Each security system installed by Security Alarms Co. can be controlled remotely through the Virtual Keypad App. We know how important this technology is for modern businesses, multi-family housing, and homes. Through these mobile platforms, you are given immediate access to your home's security updates and cameras no matter where you might be. Wouldn't you enjoy peace of mind with remote control and monitoring?
Suppose you have a business dealing with sensitive data, need to boost your school's security during operational hours, or just want to control who comes into your building. In that case, access control systems are likely the best way to get started. At Security Alarms Co., we can help install, test, and maintain your access control systems to improve your facility's security protocols and protect your most valuable assets from theft or crime.
Home Automation Solutions
Smart homes have become increasingly popular in recent years. Whether you are looking for ways to simplify repetitive tasks like adjusting the thermostat or want to improve the ambiance with mood lighting, Security Alarms Co. has the home automation solutions to help. No matter your vision, we have the products and expertise needed to bring it to life. Even better? The solutions are incredibly affordable!
How Important is Your Safety?
If you are like most of our customers, there's a good chance that you don't want to cut corners when it comes to the safety of your home or business. Security Alarms Co. has worked incredibly hard to develop a comprehensive catalog of security and automation products, and our installation and maintenance teams are here to streamline the process. Contact us today to learn how we can help improve your safety and security!